Discussion Starter
·
#1
·
I recently had a litter go up for sale. They are the 3rd generation of mice which aims to produce dutch in the long run.
Naturally I'm not getting too many that resemble dutch yet, it's variety that requires patience and persistance.
So I have an entire litter of mismarked babies, a debate had started earlier about me referring to them as "mismarked dutch" because they do not appear to be dutch.
I'll agree that there is still a lot of work to be done. But we ended up agreeing that they were "marked mice of dutch ancestory" :roll: .
To avoid classifying them as any paticular "marked" variety I used the term "bicolour" to decribe them.
The term bicolour is not a standardised mouse term. It's a generic term that means anything of two colours.
A fellow fancier pointed out that it was not a standarised term and I should be calling them "marked". She felt I was using the term as a gimmick to promote my mice.
Due to the previous disagreement I chose to avoid use of the term "marked" in any form. "Marked" mice in the Australian fancy also incorperates brindle BTW.
These are the mice in question: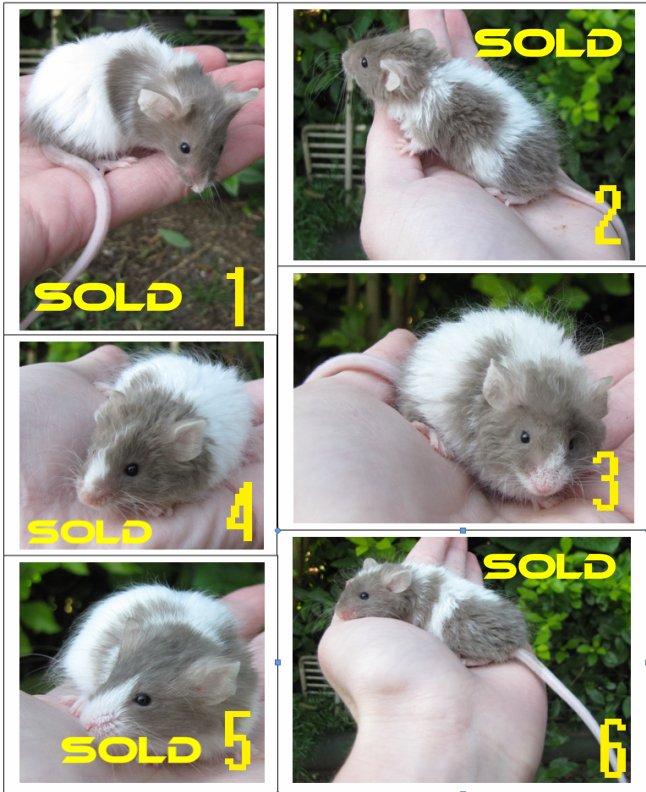 What I would like is an honest, unbiased opinion.
Am I justified in using the term "bicolour"?
Does it come across as a term that is misleading or give my mice an advantage over calling them "marked"?
I'm happy to change it if you agree that it does give my mice an unfair advantage or you agree that the term "marked" would suit these animals better.
I felt humiliated that it was pointed out on a public forum.
Your assistance on the matter would be appreciated.