Discussion Starter
·
#1
·
My past two mice have died.
The first one, named Mouse, was extremely tame, which I figured was just because she was young. But after two days or so, she was not active at all, really. She'd just sleep and eat. Before that, she'd run around a little, at least. Then it seemed like she had a hard time moving. Her back was always rounded (she never stretched out) and she never ran. I had her for a total of six days before I found her lying on her back. :[
This is Mouse :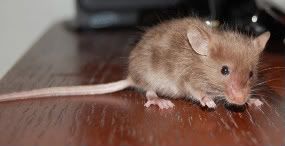 My second mouse, Hermione (haha), however, seemed perfectly healthy. She was at a good weight, healthy, tame, active. I had her for 13 days or so before she died.
And this is Hermione:
I'm really sad about the both of them.
:[
So, it could be something wrong with how I'm taking care of them.
But I did the same thing with my first mouse and she lived the normal length of time.
I sanitized the cage between all three mice.
I fed them pet-store mouse food. Changed the water. Used pet-store bedding and toys.
I have no idea what's wrong but hopefully I'll have a new mouse soon, that will be healthier.
Any ideas?
Thanks!