Discussion Starter
·
#1
·
Hi, I was wondering if anyone could help shed some light about our only buck, Peter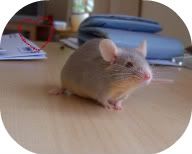 Peter was dumped at our door! Somebody must have known we had rescue mice...
Anyway I realise he is a dove tan. I know next to nothing about mouse genetics and the standards of varieties, but Im guessing hes not a very "good" tan (bless him) although the colour does cover his whole belly
The thing that makes Peter different is one tiny round patch of white on his bum. Its a little spot of it
(please excuse the "not the most flattering of pictures" :lol: )
I was wondering what this made him...does this mean he likely has broken in his background or something else? (please excuse my ignorance-Im learning) What would you call him?
Thanx