This may or may not be your cup of tea, but as you are all mouse fanciers here, I figured it would be a good place to post it. Note that whilst accounts currently cost a small fee (to cover any hosting or other costs), once it's fully developed it will be open to the public for free, so if you are interested but don't want to pay, remember it wont always cost. I will add updates on here as we go, including mouse art, etc. I will also be linking back to this forum once my co-developer gets online, as I'm finding this an extremely useful resource and both am appreciative of being allowed to post this, and fully believe it deserves credit for the help that it' giving me.
Mouse Mania Sim is an in development sim game brought to you by myself and my co-devloper, Anktian that is based around the world of breeding fancy mice for exhibition. We focus on very realistic genetics where careful planning will play a major role in how well mice will perform.
Along with our unique showing system, some of our other features will include::
A realistic genetics system for colors and markings
A unique visual distinction between pet and show standard animals
Three different types of stats to shoot for through careful breeding, care, and training.
The ability to mix your own custom feed for different bonuses (or use pre-made feed)
A care system where the quality of the environment of your mouse is actively reflected
And much more!
We are aiming to allow pre-testers to access the site in approximately 2 weeks. You can view our site index for more information on pre-testing by clicking(right here), and scrolling to the bottom.

Alpha date TBA.
Mouse Mania Sim prides itself in being 100% accessible to non-visual users.
Preview of the standard mouse art. Markings in particular are subject to re-vamps. I just whipped that up as an example. =)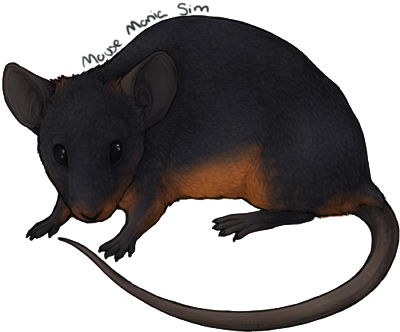 If you have any questions, feel free to ask, though we are keeping some of the features under wraps until we're further on in development.
-Kitei